Tire Tread & Wear Inspection
LA County Tire Inspection
Caring for a car can be difficult and time-consuming but it is certainly worth it. It is important to remember that there are certain aspects of care that should be done on a regular basis to protect you and your passengers as well as other people on the road. Your tires are crucial, and keeping their tread at a good level is essential.
Inspecting Your Tires
As you drive every day, your tire tread is going to wear down and become less and less gripping so to speak. As the tires wear down, they have less traction and are less and less able to grip the road when you drive. This means that things like water on the road and other precipitation is going to make it very difficult to drive with tires that have low tread.
Schedule Service
What does a Tread & Wear Inspection Entail?
A tread and wear inspection is the process by which the technician will check and see how high the tread on your tires is and then work to make sure that if tires need to be replaced, they are. They will also check to see if there are any irregular wear patterns on the tires that need to be remedied.
Why Should I have a Tire Tread & Wear Inspection?
As tires age and their tread wear down, they become more and more dangerous. They are more and more likely to slip and slide in any precipitation and even on a dry, flat road. The low tread may also make the walls of tires thinner which means they are more likely to puncture or rupture which can cause wrecks and can cause you to go off the road and cause serious injury.
This is a simple check that can be done while you are having other services done that can save you time, effort, and can help make you safer when you are driving.
Delaying Tire Service
Delaying this type of service is likely going to end in your having an accident. You may run off the road, lose traction, or even have a tire blow out as the wear patterns and tread have become thin and are more prone to popping. This is a simple service that can be done quickly and that can keep you and your passengers, as well as other people on the road safer.
Schedule Service
Why Choose Los Angeles Chrysler Dodge Jeep Ram
Our service center offers express service as needed, state of the art equipment and facilities, a comfortable waiting area, and more. They also have certified technicians as well as genuine Mopar parts and a team that is dedicated to getting you back out on the road faster.
---
Los Angeles Chrysler Dodge Jeep Ram Service Center Amenities
Kids Play Area
Complimentary Beverage & Coffee Bar
Complimentary Snacks
Beautiful New Facility
Luxurious Waiting Lounge
Vending Machines
Certified Mopar Technicians
Friendly and knowledgeable Service Advisors
Genuine OEM Mopar Parts
Complimentary Shuttle Van
Hot Tea
---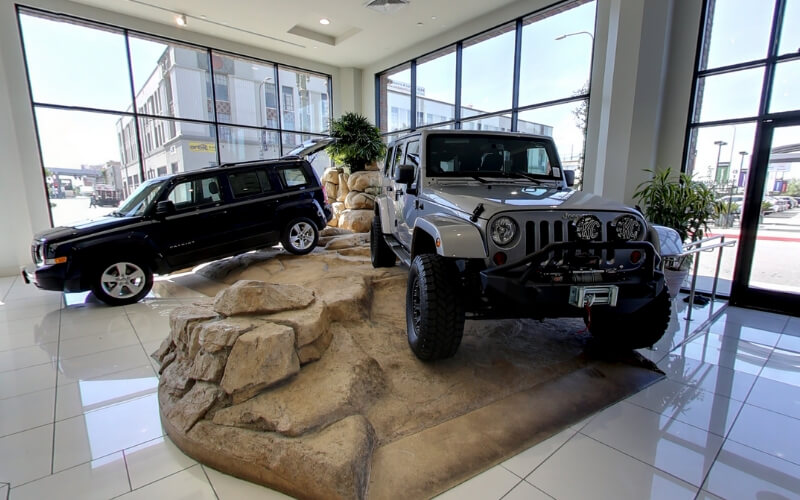 ---