Semi-Synthetic Oil Change
Semi-Synthetic Oil Changes with Los Angeles Chrysler Dodge Jeep Ram
Your car relies on fresh engine oil for proper performance when driving around Huntington Park. Your car's motor oil provides several essential features such as engine lubrication, temperature control, and protection from build-up and engine wear. When you need new oil, a Mopar semi-synthetic oil change with Los Angeles Chrysler Dodge Jeep Ram, you are ensured that the oil you use meets the manufacturer's performance and safety standards.
What is Semi-Synthetic Oil?
Synthetic-blend motor oil is engine oil that blends conventional motor oil with synthetic oil produced in a lab. This blend creates an oil with traits of both, offering the predictability of conventional oil while still offering some of the advanced features found in full synthetics. In general, a semi-synthetic is seen as a middle ground between the two other options available.
Why Are Oil Changes Needed?
Your car's engine produces a great deal of heat and pressure even during routine uneventful drives. Over time this causes your car's oil to break down, which causes it to lose its ability to keep your engine adequately protected. Also, any additives also lose their protective properties, further putting your engine at risk. The dangers of old oil include damage to engine components, overheating, your engine seizing up entirely, and the need for your entire engine to be replaced in extreme cases. Missing oil changes puts your safety and car's longevity at risk.
Semi-Synthetic Oil Compared To Synthetic and Regular Oil?
When you go to buy engine oil from an automotive parts store in Lynwood, one of the first things you'll notice is the vast selection of oil types and brands. Semi-synthetic oil differs from the other options in several key areas. Compared to conventional oil, a semi-synthetic offers a longer usage lifespan lasting 5,000 to 7,500 miles versus a conventional oil's 3,000 to 5,000-mile life. A semi-synthetic offers better performance and protective qualities. A semi-synthetic does not offer the levels of performance or lifespan a full synthetic does but it is more affordable.
Why Use Us For Your Oil Change Needs?
When looking for a synthetic blend oil change in Los Angeles you have a choice in shops to take your car to for your oil change needs. But when it comes to your car's engine you want to trust the work you receive. At Los Angeles Chrysler Dodge Jeep Ram we are a fully certified shop and committed to your satisfaction. Call us today to make an appointment or schedule online. We look forward to serving you!
Schedule Service
---
Los Angeles Chrysler Dodge Jeep Ram Service Center Amenities
Kids Play Area
Complimentary Beverage & Coffee Bar
Complimentary Snacks
Beautiful New Facility
Luxurious Waiting Lounge
Vending Machines
Certified Mopar Technicians
Friendly and knowledgeable Service Advisors
Genuine OEM Mopar Parts
Complimentary Shuttle Van
Hot Tea
---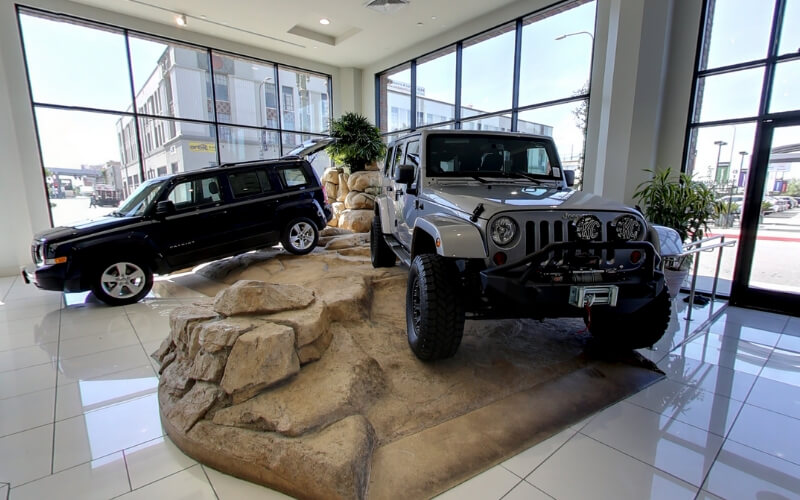 ---