Certified Mopar Air Conditioning Service and Repair in Los Angeles, CA
Whether you have a Chrysler, Jeep, Ram, Dodge, FIAT, or another vehicle that uses Mopar parts, we're here to help you with your air conditioning, whether it's not blowing, blowing hot air, or malfunctioning some other way. Our certified Mopar technicians know your vehicle inside and out, and they'll go through your A/C system part by part to restore its functionality. We're here to keep your car as cool as possible for driving in and around Los Angeles.
How Air Conditioning Works
Your car's A/C is quite similar to a refrigerator, except instead of cooling a box, it cools air, which then is blown at you. It all starts with a compressor that turns gas into a liquid, a process that outputs a lot of heat. The pressurized refrigerant is then cooled by a condenser, removing the excess heat. Then the liquid is released through a nozzle into a non-pressurized chamber, which takes back in heat, but since the liquid is no longer hot, it takes it from the surrounding air, which is then blown through your vents.
Our Air Conditioning Diagnosis, Service, and Repair
Our certified Mopar technicians are geniuses at A/C repair, and they will visually and physically examine all the parts in your A/C system to find the problem. They even inject a fluorescent dye into the system to find any leaks, and then they can seal those leaks up before recharging the system with refrigerant. We offer genuine Mopar parts for any replacement you might need, so you know your repairs will last.
Our Service Center is Made for Your Comfort
Our beautiful new facility has more than certified technicians and OEM parts, it also has a luxurious waiting lounge, complete with complimentary snacks and hot tea. We also have a complimentary beverage bar if you'd prefer coffee or something else. We even have a kids' play area, so you can bring your whole family along to relax while your vehicle is receiving service. We're ready and waiting to treat you and your family to our level of service.
Come to Los Angeles Chrysler Dodge Jeep Ram for Your Air Conditioning Service and Repair
Having your A/C go out can turn a pleasant drive to miserable in an instant. We're here to change that all back and make your car the floating oasis of cool air that it can be. Our friendly and knowledgeable service advisors can help you with any question you might have, and we're always happy to help you understand a little more about our services and repairs. Set up your appointment online today to get your A/C serviced!
Schedule Service
---
Los Angeles Chrysler Dodge Jeep Ram Service Center Amenities
Kids Play Area
Complimentary Beverage & Coffee Bar
Complimentary Snacks
Beautiful New Facility
Luxuriourus Waiting Lounge
Vending Machines
Certified Mopar Technicians
Friendly and knowledgeable Service Advisors
Complimentary Shuttle Van
Hot Tea
---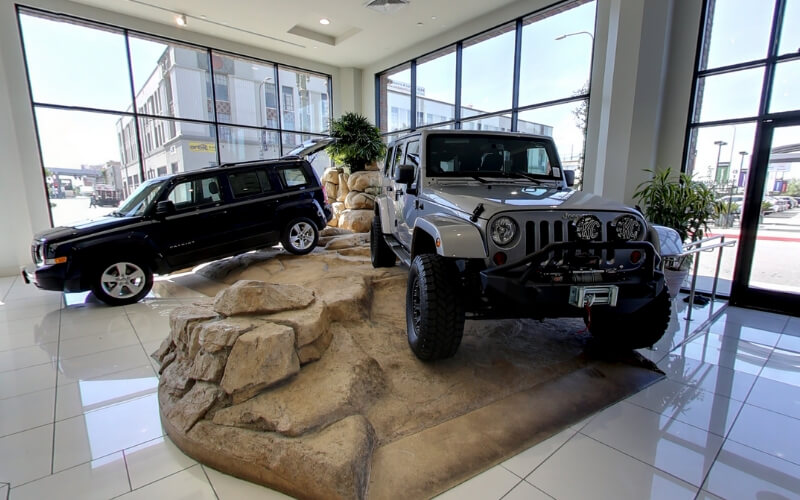 ---