Jeep Brake Pad Replacement
New Jeep Brake Pads in Los Angeles
If your brakes begin to squeak or squeal when you press on them to come to a stop, you may need to have your brake pads replaced. This is known as a brake pad replacement service. If you are unfamiliar with this type of auto maintenance, you may want to familiarize yourself with it before you have it done. Here is what you need to know.
Replacing Your Jeep's Brake Pads
Brake pad replacement services, also known as brake shoe replacement, is the process of replacing the pads or shoes on your brake system. Brake pads play an important role in the ability of your Jeep to come to a complete stop. When you press on the brake, the brake pads begin to squeeze your brake rotors, helping your car to come to a stop.
Schedule Service
Why You Need to Have Your Jeep's Brake Pads Replaced
As your brake pads squeeze or grip your brake rotors, they begin to wear out. Each time you press on your brakes, the pad gets a little more worn. Over time, the pads wear down to such a point that they need to be replaced.
If your brakes are starting to squeak or squeal, it usually means that your brake pads are beginning to reach a point where they need to be replaced. When you hear this sound, you should schedule a brake inspection. Our auto repair shop can inspect the brake pads and determine if they do need to be replaced, or if there is another issue with your Jeep's braking system.
Risks of Not Getting New Brake Pads
If you do not have your brake pads replaced when they need to be replaced, many negative things can happen. First, your brake pads can start to grind into your rotor when it has no more padding left on it. Instead of just needing brake pad replacement done, you may be looking at more costly and extensive repairs, such as rotor replacement or resurfacing.
If you continue to drive with the brake pads digging into the rotors, you can also start to encounter problems with other parts of the brake system, such as the calipers. Your car may also fail to come to a stop as quickly, which can be extremely dangerous.
Schedule Service
Premier Jeep Service in L.A.
If you live in the greater Los Angeles area and your Jeep needs new brake pads, come to our service center. You can trust us with all of your automotive needs. Our certified technicians only use state-of-the-art equipment and genuine Mopar parts. We offer express service and have a comfortable waiting area for those who want to wait for their car. Contact us today to book your appointment.
---
Los Angeles Chrysler Dodge Jeep Ram Service Center Amenities
Kids Play Area
Complimentary Beverage & Coffee Bar
Complimentary Snacks
Beautiful New Facility
Luxurious Waiting Lounge
Vending Machines
Certified Mopar Technicians
Friendly and knowledgeable Service Advisors
---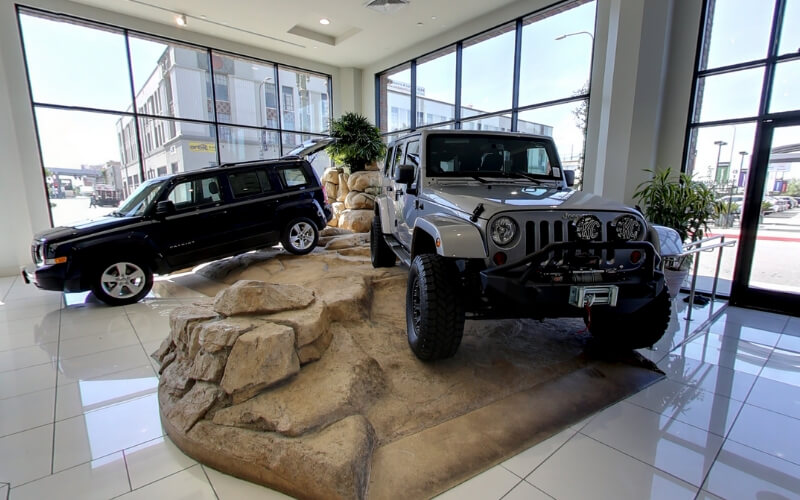 ---