Brake System Repair
Rotors, Calipers, Lines, and Master Cylinder
For automobile owners who properly maintain their vehicles, brake system repair typically means replacing inexpensive brake pads. When brakes aren't maintained, however, brake service may also include replacing rotors, calipers, brake lines, and even the master cylinder. Most manufacturers recommend replacing brake pads approximately every 50,000 miles, depending on how and where you drive. Your brakes will also warn you — with a nice loud squeal — when they get low. Ignoring these warning signs will almost certainly result in rotor (the metal disc that the pads press against) damage, and possibly cause problems with the calipers that hold the pads in place, as well. Other less common brake system issues include leaky brake lines or a faulty master cylinder. Because brakes use hydraulics to help you stop, and brake lines come under tremendous pressure, you should replace leaking brake lines immediately, or your brakes may fail. Problems with a brakes master cylinder are less common, but also need to be addressed immediately upon failure.
Schedule Service
Why Should You Use Los Angeles Chrysler Dodge Jeep Ram?
You certainly wouldn't want a subpar brake job on your Chrysler Dodge Jeep Ram vehicle, so why settle for anything less than the best when it comes to parts, service, and customer care. At Los Angeles CDJR our certified mechanics use state-of-the-art equipment and properly diagnose your problem the first time, every time. We use only genuine OEM Mopar Parts and get your vehicle running like showroom new. Use our free shuttle service or wait in our new and luxurious lounge. Relax and enjoy complimentary beverages (soft drinks, coffee, and tea), and snacks. We also have a children's play area and a fully stocked vending machine. At Los Angeles Chrysler Dodge Jeep Ram we have a huge selection of new and used vehicles, a friendly sales staff, and skilled mechanics. We're the best place to service your vehicle in Los Angeles, and the entire surrounding area, as well.
Schedule Service
Mopar Service at LA CDJR
You may not always know when your brakes begin to develop problems, as even the most severely worn pads often feel almost the same as a brand-new pair. At Los Angeles CDJR every service includes a multi-point inspection on your car's brakes, fluid, belts, hoses and every other important area that may affect your vehicle's performance. Along with expert repair service, at Los Angeles Chrysler Dodge Jeep Ram we also provide routine maintenance including:
---
Los Angeles Chrysler Dodge Jeep Ram Service Center Amenities
Kids Play Area
Complimentary Beverage & Coffee Bar
Complimentary Snacks
Beautiful New Facility
Luxurious Waiting Lounge
Vending Machines
Certified Mopar Technicians
Friendly and knowledgeable Service Advisors
---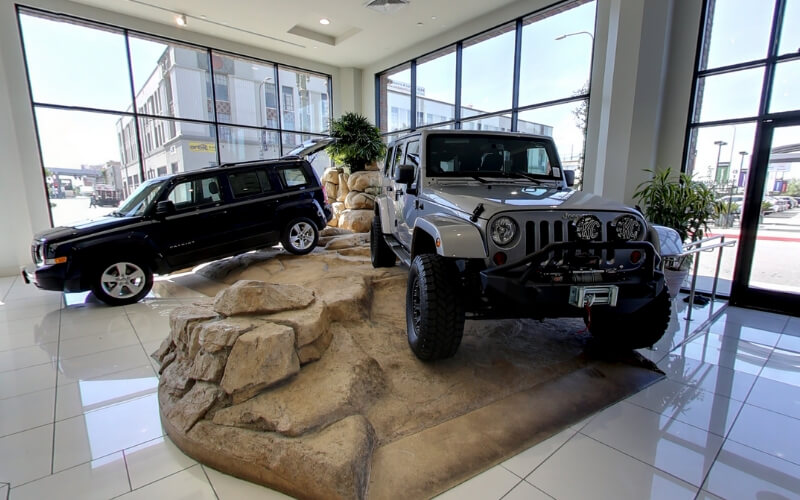 ---
---