Brake Rotor Resurfacing / Replacement Service
Complete Brake Rotor Service
It is important to properly maintain your vehicle and get any repairs that are needed to be done in a timely manner. This helps to ensure that your vehicle will last as long as it is designed to. One of the repairs that you may need on your vehicle at some point in time is either brake rotor resurfacing or brake rotor replacement services. If you are not familiar with this service, here is some information to help you familiarize yourself with it.
Why You May Need Your Brake Rotors Resurfaced or Replaced
There are many reasons why you may need to have brake rotor resurfacing or replacement services. Rotors can wear unevenly, become warped from heat as they are used, get rusted, corroded, or become damaged when your brake pads are not replaced in a timely manner.
Schedule Service
What does Rotor Resurfacing Entail?
Rotor resurfacing involves sanding down the metal rotor to reveal a fresh, even, undamaged surface. However, in some cases, your rotors are too thin to resurface, either due to extreme damage, age, or previous resurfacing. If this is the case, the rotors will need to be replaced.
Signs You Need Brake Rotor Services
Unfortunately, there may not always be signs that your brake rotors need resurfacing or replacement. In most cases, you will bring your car in for squeaky or squealing brakes, thinking you need the brake pads replaced. When a mechanic is replacing the brakes, they will be able to visibly see your brake rotors. They will be able to tell if they are thin, uneven, rusted or otherwise damaged.
What Can Happen If You Do Not Repair or Resurface Your Rotors?
The brake pads or brake shoes grip the rotors on your car to bring the car to a full and complete stop in a timely manner. If your rotors are worn, uneven or damaged, the brake pads may have trouble gripping the rotor. This means that it may take your car longer to come to a full and complete stop. You may also hear grinding or feel vibrations as you attempt to bring your car to a stop.
Schedule Service
Brake Rotor Resurfacing or Replacement Service in Los Angeles
When you are in need of brake rotor resurfacing or replacement services in the greater Los Angeles, California area, we are here for you. When you bring your car to us, you know your car will be worked on by certified technicians, and we only use genuine Mopar parts installed with state-of-the-art equipment. We equally care about you, our customer, which is why we offer express service and a comfortable waiting area. Book your appointment by giving us a call now!
---
Los Angeles Chrysler Dodge Jeep Ram Service Center Amenities
Kids Play Area
Complimentary Beverage & Coffee Bar
Complimentary Snacks
Beautiful New Facility
Luxurious Waiting Lounge
Vending Machines
Certified Mopar Technicians
Friendly and knowledgeable Service Advisors
Genuine OEM Mopar Parts
Complimentary Shuttle Van
Hot Tea
---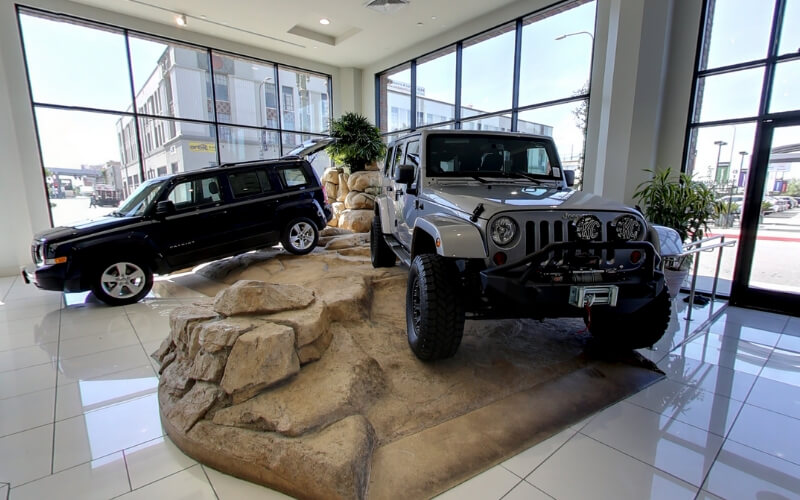 ---